Corporate
Teamwork Makes the Dream Work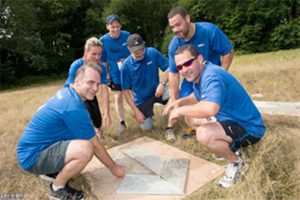 Congratulations on realizing the importance corporate culture plays in a company's success. As times change so do the problems, and turnover, disengagement, and communication are plaguing 21st century businesses.  At the same time, the importance of creative problem solving, cohesiveness and teamwork are greater than ever.
The million dollar question facing today's business owners and human resources representatives is how do you keep your good employees? Studies have shown that when pay is market rate other factors reign supreme. One of the most important factors top employees look for is culture. The top ingredients for a positive corporate culture are effective communication, strong sense of community, and openness in the office.
Companies and organizations that communicate effectively are 4.5x more likely to retain the best employees.
Businesses with effective communication are 50% more likely to have lower employee turnover. (ADD Quote)
Based on our own research, experience, and feedback from our clients we have designed a fun event with tangible benefits. Because Grit 'N Wit is a team competition you will learn about your co-workers' communication preferences, leadership styles, and motivators. At the end of your Grit 'N Wit experience you will know how you worked well together, what happened when you stumbled, and how you handled adversity. Before you can build your culture you need to understand the people that are in it and Grit 'N Wit is a great tool for that. At Grit 'N Wit we have a series of physical and mental challenges meant to test a number of different attributes. At a typical event there will be one team where somebody very confident takes over dominates the conversation and ultimately loses. There will usually be a team that will be designated as "weak" that will surprise everyone, and usually the team that works best together and thinks strategically will end up winning. Inevitably people will surprise themselves and their teammates which is a springboard for communication, camaraderie and results that carry over into their business relationship.
What is Grit 'N Wit Corporate?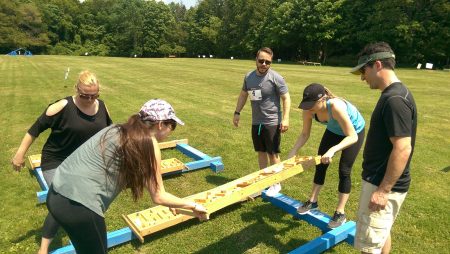 Grit 'N Wit Corporate is a team building program that emphasizes teamwork, strategy, competition and creativity while minimizing……running.
While we do have some Standard Events, oftentimes we work with our business clients to design custom events tied into company goals, values, mantras, and ability levels. Here is a proposal from a past event to give you an idea of the customizability.
Why Grit 'N Wit
Three of the most important functions for any successful company are 1) hiring great talent, 2) developing it, and 3) keeping it. Work environment and corporate culture play a huge role in all three. People want to work with people they like and feel appreciated. While some people will fit in wherever they go, many people are more introverted and it is incumbent upon companies to create situations that promote healthy interaction and teamwork. You've probably tried or are considering many of the traditional team-building activities such as ropes courses, scavenger hunts, paint ball etc.,… and are looking for 1) something new, or 2) something better. Grit 'N Wit takes corporate team building to a new level  by adding challenges from popular shows such as Survivor, Amazing Race, MTV Challenge etc. that not only lead to a fun afternoon, but a shared experience and camaraderie. Grit 'N Wit challenges people to work together to solve difficult and unfamiliar problems in a way that is fun and engaging.
How to Host an Event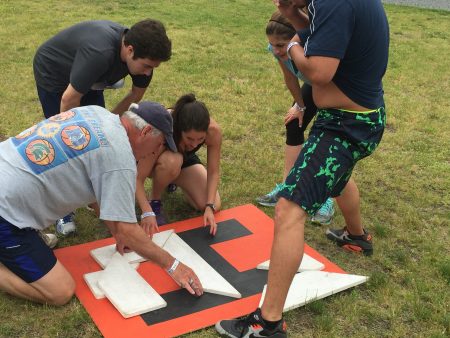 We have several different packages covering our most common corporate requests. To discuss one or more of these options in more depth, contact us to schedule a time to speak with an event coordinator.
Because a company's employees and objectives can vary greatly, you may want to use our standard programs as a guide to build your own customized event. Our event coordinators are happy to work with your leadership team to either find or design the event to MAXIMIZE your experience. Please fill out this brief questionnaire and one of our representatives will be in touch shortly to go over your custom event proposal.